Police Department
The mission of the Daingerfield Police Department is to enhance quality of life in the Ciy of Daingerfield by cooperatively working with the public and to serve the citizens within the framework of the United States Constitution, to investigate and enforce laws, provide a safe environment, and to preventatively reduce the fear of crime.
We seek to respect and protect the rights of citizens as determined by law by holding ourselves responsible to those we serve, with honesty , respect, fairness , sensitivity, compassion, openness, and by listening to and continuously being in contact with our citizens, and being responsive to their needs.
If you are witnessing a crime in progress or are experiencing an emergency, please dial 911.
Contact Info
Tracey Climer
Chief of Police
101 Linda Drive Daingerfield, TX 75638
903-645-2114
Relevant Documents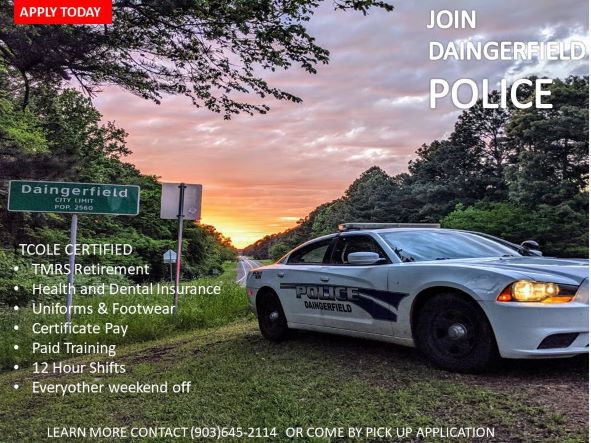 Locations
Daingerfield Police Department
101 Linda Dr
Daingerfield, Texas 75638
903-645-2114