Welcome to the City of Daingerfield

City of Daingerfield… A Great Place to Live!

In the City of Daingerfield, we are defined less by boundaries on a map than by the sense of shared values our residents hold dear. Small town values, guided growth, preservation of historical, cultural, and natural heritage are just a few of the core principles that makes City of Daingerfield a wonderful place to call home.
Featured News
Daingerfield HOME Program
6/24/2022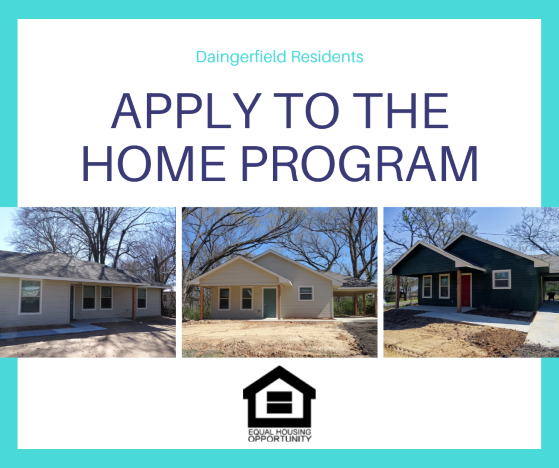 Apply to the Daingerfield HOME Program
Applications are now accepted on a rolling basis for the HOME Program. Eligible Daingerfield homeowners can apply to have their existing house or mobile home demolished and a new home built on the same site. To learn more and apply online, visit
Daingerfield Public Library to host fun filled summer events!
6/1/2022
The Daingerfield Public Library has a summer full of fun activities planned. Click here to be directed to the Library and the detailed calendars of events planned! We hope to see you there.
Brand New Electronic Water Meters!
11/1/2021
The process has begun throughout the City to install brand new electronic water meters.